Prospector Features
Welcome to Poker Academy Prospector - the next generation of poker analysis.
Easy and Powerful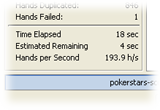 Importing – Importing power that is unmatched. Import mountains of hand histories at lightning fast speeds.

Importing is simplified using the automatic site detection for files and folders.Site support is quickly growing and will include all of the top online poker sites.




Player Overview – The player stats overview allows you to monitor a player's bankroll history and stats summarizations.

Numeric stats are accompanied with useful and customizable graphs. Every column can be hidden, sorted, and moved. All of the columns can also be graphed (either together or seperate) for those who prefer the visualization.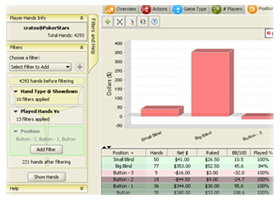 Complex Filtering made Easy – Filtering is both powerful and easy to do.

Select a preset filter such as position, hole cards, or betting sequence. Alternatively, you can select the rows you desire and then apply the filter. Any attribute can be used to create a filter.

Effortlessly see where the filtering is occuring by observing the background of the filter (which funnels the hands appropriately for the respective filter).
Intuitive and Comfortable
New Perspectives – View selected hand history in an easy to scan tabular browser. In one glance this perspective shows how the money got into the pot, the string of actions, aggressors, and chip stack considerations.

Animation Playback – Playback the hands with a variety of options. You can display known hole cards, alter some playback options and show the percentages.
Old Conventions – Users comfortable with existing standards are pleased as well. Features such as regular transcript views, and industry accepted stats such as VPIP are all still included.